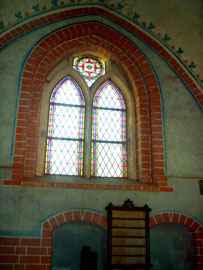 Nave windows,
including two niches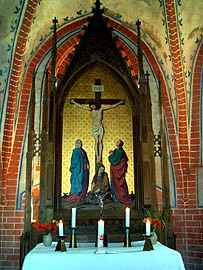 Altar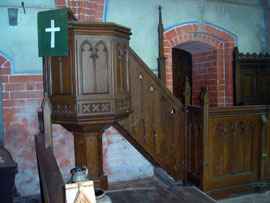 Pulpit, beside entrance to the sacristy
First mention of the church around 1400
Church originally donated by farmers
later patronage of the parish family of pit Hagener Maltzahn
Back with attached staircase tower with its own door.
Tower and main entrance obscured by Portal Houses.
Portal home of the tower with an inscription that is not partially legible:
Jesus .... eternity, about the cross.
The same cross we find also in the sacristy next to the tower.

Windows with colored glazing partly broken,
the upper circular part with different flowers or patterns,
Window with different colored stained glass
Winter Church under the organ loft available,
Church with ribbed vaults, three yokes.
Choir bay, Langhausjoch, further behind the arc yoke.
Choir bay in semicircle,
Between Organ area and great room arch,
normally represents the separation between choir and nave,
The ribs are decorated with oak leaves. The bow has ornaments as decoration.
Narrow shallow niches beside the altar are also painted.

Next to the entrance and opposite, we find four niches from Catholic times.
These niches are open.

Features 19th century
Altarpiece by Theodor Fischer - Poission 1868
Jesus on the cross, Mary and John standing,
Mary Magdalene kneeling.

Pulpit simply without scarf cap, connected to the left Patronatsloge, right greater loge of patron.

However, it is a Lütkemüller organ to 1869th
Organ was restored by the company Arnold of 2009.

Bell Carl Illis goods 1862 second bell 19th century

Entrance door with quatrefoil and two crosses,

Outside we find next to the entrance an old baptismal font from the Middle Ages.

At the apse is a grave plate from the 18th century.