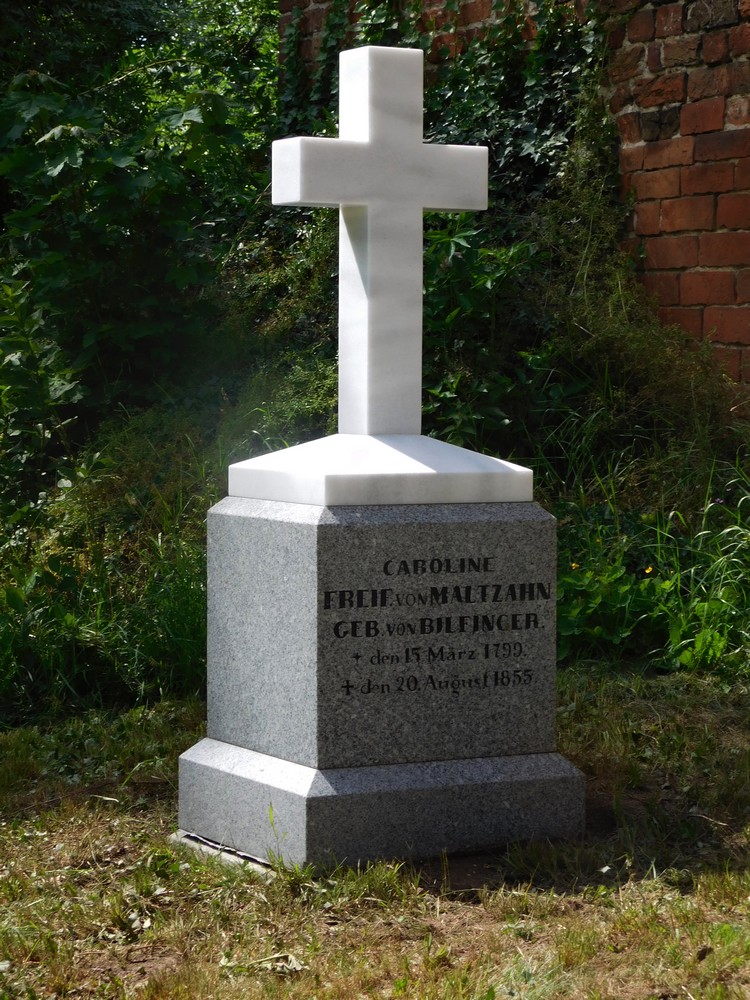 The grave stone Carolines,
Grave stone received on 21.06.2016 the white marble cross
The love story of Caroline von Maltzahn inspiereierte Theodor Fontane for his novel
"Irretrievably" (Photo Elvira Ludwigs,2016)
The St. Johannis Church Kirch Grubenhagen belonged to those villages that were founded after the turn of crusade Henry the Lion (1147) in the country Circipanien, a tribal area of ​​west slavic Liutizen.
In the first documentary mention (1243) the knight Heinrich Grube called on Grubenhagen.
Around 1340 acquired Ludolf von Moltzan owning and Grubenhagen castle was
the ancestral seat of the Mecklenburg line those of Maltza (h) n.
The remnants of this probably largest castle in the central Mecklenburg can be found in a marshy lowlands near the present village castle Grubenhagen.1759 Church of the farmyard was founded west Vollrathsruhe on a hill.

By railways, the post and through the development since the 50's today go the villages Vollrathsruhe
and Kirch Grubenhagen overlap.

The St John's Church to Kirch Grubenhagen - built in the first half of the 13th century on a steep mountain -
originally served the surrounding villages as a fortified church. This is one impressive, built of fieldstone church building
the oldest in the region and is an impressive example of the transition from romanesque to gottischen style.
At the instigation of the knight Dietrich von Moltzan, who had been since his studies in Wittenberg (1514), was a friend of Luther and Melanchthon, sermons, long before the introduction of the reformation in Mecklenburg, protestant clergy in the St. Johannis church parish Grubenhagen.
Carl von Maltzahn initiated in 1861 the reconstruction of the church.The romanesque slit windows were bricked designed new windows and extended the chair to a polygonal apse. Added to this were the wooden vault style englich cast iron architecture that time, the neo-gothic altar, the galleries on the north wall and new pews.
major parts of the interior, however, are preserved:
The two major epitaphs in lush baroque carving and gilding (around 1700), Maltza (h) nsche alliance coat of arms and grave slabs.
The supported by the figure of Moses pulpit (1707) created the Rostock sculptor Johann Vieregge. Painting of pastors who did in the St Johannis church service adorn the south wall of the church.
From church on the mount you look far into the countryside: the Lake Malchin, the landscape of Malchiner Basin, the Burg Schlitz and the hills of the Mecklenburgische Schweiz.